Emergency Septic Services in Pennsylvania & New York
Since 1960, Koberlein has been servicing the area's septic systems following guidelines for septic tank cleaning established by the Pennsylvania Septic Management Association. Our pumping services utilize state-of-the-art equipment, giving you the most cost-effective, environmentally safe septic and technologically advanced services possible.
When you call Koberlein, you'll speak to a live person who will explain the pricing for your emergency and the necessary work that will be performed. Our team is always looking out for safety, and will also explain the appropriate timetable based on your situation.
In most instances, if the person you speak to on the phone cannot resolve your needs with you immediately, they can put you in touch with a technician to help.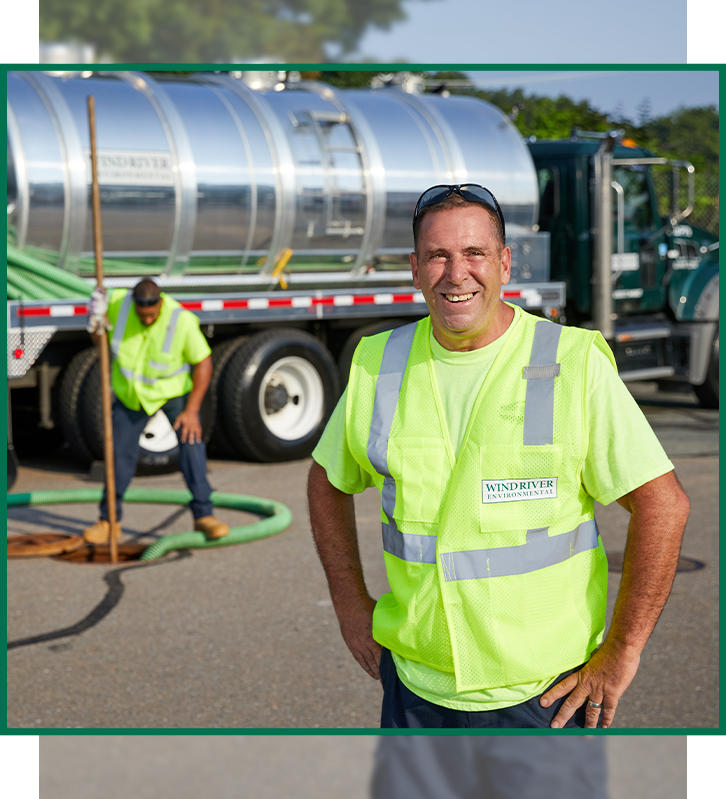 We are available 24/7 to handle anything that comes your way.

We've been serving our community environment since 1960.

Our goal is to provide exceptional value to every client, every time.

We have the most knowledge and best equipment in the industry.
Hear From Happy Customers:
"Fast efficient and helpful."

- Peter A.
Safety is our top priority, so we will always:
Assess your situation to determine if you are experiencing an emergency
Give you immediate options for protecting your family and property until service can arrive
Prioritize your service to keep you, your family, your property and our technicians safe
Keep you informed along the entire process through emails, calls and even text message
Emergency service is more expensive, so we'll also tell you if the work you need can wait for an appointment during our regular business hours.
Common septic system emergencies
Septic Backup into Basement, Laundry, Shower, or Bathroom:
50% of the time is due to an overfull septic tank caused by a clogged filter.
40% of the time is due to pipe clogging between the home and the septic tank.
10% of the time is due to a drain field or leach field issue.
Flooded Yard:
Most of the time this is due to a drain field or leach field issue — clogging.
Before thinking the worst, call us and let us evaluate your situation.
Our emergency Septic Pumping Service focuses on our technicians taking all necessary safety precautions to protect you, your family, your property, and themselves.
Call us at 570-253-3660to schedule service!
Our Emergency Septic Service
How do you know if your septic system is having issues?
At first you will observe slow flushing toilets or hear a gurgling sound, especially from the toilets closest to where the septic pipe exits the home. This indicates the septic tank is not working properly or a clog is beginning to form.
A slowly flushing toilet or gurgling sound will continue until a backup into the home happens from the clog fully forming or the septic tank containing too many solids.
Determining the cause of the septic emergency.
Outside looking into the tank.
A clogged pipe is fixed by snaking out the line from the septic tank. If you have a problem with clogs, there are remedies you can use to prevent future clogs — visit our Do Not Flush Rules page. These septic issues should never happen more than once.
A clogged filter or a clogged drainfield/leachfield is the result of an incorrect maintenance plan for the septic system.
Don't worry — we will help.
Getting to the cause of the septic system emergency
Preventative Maintenance
Proper preventative maintenance protects your septic filter from clogging and more importantly prevent the clogging of your drainfield. Our technicians are expertly trained and have years of experience in the industry to share with you in order to allow you to understand the needs of your system and keep from needing emergency services in the future.
Your goal is to not have to worry about your septic system, and we take care of that by updating you with notifications throughout the whole service process, sending reminders for future service and by extending the lifespan of your septic system with additives and regular technician updates from each service on the conditions of your system (including digital images to verify the suggestions).
Why Choose Koberlein?
If you are experiencing a septic emergency then that means your system is currently on the incorrect maintenance plan.
For over 60 years, we have perfected our maintenance process to prevent small issues like pipe clogs and large issues. We have seen every single type of septic issue over the years so BEFORE you start thinking the worst, call us for an evaluation.